Contact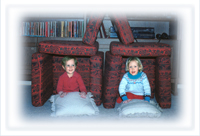 Mel (a friend of mine) and little me (left) quite some time ago.
For general questions you can contact me at web@palfrader.org.
If your request is related to my work with Debian or the Tor project please use my @debian.org or @torproject.org address respectively.
Please use role-addresses over my personal address when appropriate. For instance write to the debian-admin role address and not just to me when it's a debian admin request.
PGP key
If your issue is sensitive you may want to encrypt your message to my PGP key. My current (2020) PGP key information is

pub   rsa4096/D50F9EBC09E69937 2020-08-31 [SC] [expires: 2026-09-09]
      E3ED482E44A53F5BBE585032D50F9EBC09E69937
uid                            Peter Palfrader

There is also a secondary key, that is currently not encryption capable but might be a good future option if RSA falls over and ED25519 for some reason does not.

pub   ed25519/A25BE0999E893545 2020-08-31 [SC] [expires: 2026-09-09]
      0AD891E88DAC7DF763C9C0F6A25BE0999E893545
uid                            Peter Palfrader

You can find them here on this website in the /pgp directory.
If you have a trust path to my old key 25FC1614B8F87B52FF2F99B962AF4031C82E0039, see this statement on the new keys.